Stephen Hockman QC has specialised in all forms of regulatory law for approximately the last 30 years. He is a leader of exceptionally high standing who has a broad environmental, health and safety and planning practice encompassing judicial review, inquiries, arbitration, civil claims and criminal prosecution and defence work.
Stephen has a varied client base, including corporates and individuals, regulator and (alleged) polluter, and he is equally at home undertaking effective cross-examination as in sustained legal submission at any level of tribunal. His particular strength lies in the breadth and varied nature of his practice. He is able to draw on his extensive experience in his specialist areas of regulatory and health & safety law, civil and commercial law, and planning and environmental law to provide a unique service in complex and high profile litigation.
Stephen is recognised as one of the leading practitioners in the fields of Health and Safety Law and Energy and Natural Resources. His practice also encompasses in particular environmental law including making and resisting public law challenges to environmental decisions, appearing for claimants/defendants in environmental cases in the common law courts, for example nuisance, and prosecuting and defending in major pollution cases.
Stephen's practice incorporates too a significant element of local government work, and he has appeared for and advised local authorities in every part of the country on a regular basis, on issues such as town and country planning and internal governance.
Stephen is highly recommended by the leading UK legal directories in the areas of Environmental Law and Health & Safety Law. He was nominated as Health & Safety Silk of the Year at the Chambers UK Bar Awards 2019, as Real Estate, Environment and Planning Silk of the Year at the Legal 500 UK Bar Awards 2015 and as Silk of the Year in Environment/Planning at the 2014 Chambers UK Bar Awards. He is listed in the Who's Who Legal UK 2021 list of leading barristers in environmental law. He is also named in the Best Lawyers in the UK (2019 edition) list for Environmental Law. He was awarded the title of "Most Influential Regulatory Law Specialist 2018 - UK" in Acquisition International's 2018 Global Excellence programme.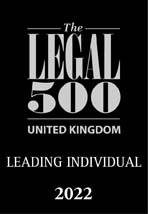 Recommendations
"...highlighted as a "living legend" with a strong focus on regulatory disputes" and "an erudite and exceedingly clever silk."
― Who's Who UK Legal Bar [2022]
"A true gentleman with profound knowledge of environmental law. He has the enviable ability to simplify and quickly deliver the most technical and complex legal arguments." "He is a clear and persuasive advocate, but also incisive and strategic and therefore able to summarise the issues for clients to provide the practical advice they need."
"He provides a sterling service in very difficult circumstances." "He is everything one hopes for in a barrister - he is incisive, strategic and a clear and persuasive advocate."
"He is hugely knowledgeable and experienced."
― Chambers UK Bar Guide [2022]
'"A very good technical lawyer and particularly good on appeals. "
"Stephen masters a very substantial amount of material within a very short time and dealt with extremely difficult clients in an exemplary fashion. "
― Legal 500 [2022]
"His judgment is superb, and he's able to persuade his clients to take a sensible and pragmatic approach."
"He's a genius, and is supremely confident without an inch of ego or arrogance. He has a really wonderful turn of phrase and is able to quickly get to the point." "Very experienced, very knowledgeable and excellent on his feet."
― Chambers UK Bar Guide [2021]
"He remains one of the doyens of this area of law and can handle very sensitive cases in a masterly way."
"He is one of the most experienced health and safety silks around. He is particularly good on technical points of law and appellate work. He has an absolutely huge intellect; very few work harder than he does."
"His knowledge of the law pertaining to the subject matter was impressive as was the way in which the individuals concerned were handled."
― Legal 500 [2021]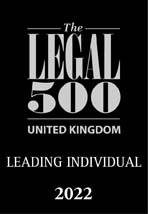 Notable Cases
Advising and representing a corporate core participant in connection with the Grenfell Tower Inquiry
Representing a major waste recycling company in its defence of a regulatory prosecution
Representing a local authority in the Queen's Bench Divisional Court on an appeal relating to the power to request information under the Environment Act 1995
Representing in the UKSC a Severn River salmon fisherman whose rights under the European Convention on Human Rights had been infringed by the Environment Agency
Representing a major landowner on a petition to the parliamentary select committee inquiring into the proposed route for HS2
Advising and representing a major supermarket chain in respect of its health and safety liabilities.
Representing a significant trade body in the Court of Appeal in a challenge to the powers of the Food Safety Authority.
Presenting in the UKSC a seminal case relating to the right to seek a variation of a matrimonial property order.
Representing in the Court of Appeal an alms-house charity which successfully established its legal right to grant a licence rather than a lease to those in occupation.
Defending a chartered structural engineer charged with involvement in offences relating to damage to a listed building.
Representing applicants in a claim in respect of planning permission for a runway at Rochester airport and subsequent noise pollution and effect on residents and the AONB nearby.
Representing one of the defendants in a multi-million pound ground water pollution claim by Thames Water. Complex issues of foreseeability, causation and limitation.
Representing the defendant in a prosecution by the local authority for health and safety offences arising from electrical work at London Olympics. The case raised the issue of who was the correct prosecutor (the local authority or the Health & Safety Executive), and the circumstances when an employer can escape responsibility for an obvious act of negligence by an employee.
Significant case advising and representing TOTAL UK Ltd in connection with the consequences of a major explosion at the Lindsay Oil Refinery.
Representing the liquidators in a dispute relating to a substantial claim for remediation against an insolvent company arising from asbestos contamination linked to the operation of a textile factory and the subsequent demolition of its site in the 1970's.
Successfully defended the local authority's position in the Court of Appeal regarding whether a variation, or purported variation, under s.173A of the Town and Country Planning Act 1990 (as amended) can render an enforcement notice a nullity.
Advising the RIBA on the terms of their governance structure.
Instructed on behalf of two significant international corporates in a challenge to decisions by DECC under the regulations concerning control of greenhouse gas emissions.
Appearing for the successful claimants in the Supreme Court in Coventry v Lawrence in which the law relating to claims and remedies for environmental nuisance was re-defined. This case, which has not only produced probably the most important common law judgment for perhaps 20 years, also produced one of the most important ever judgments relating to conditional fees.
Leading the challenge in the House of Lords, based on the European Convention on Human Rights, against the role of the Secretary of State for the Environment, Transport and the Regions in determining planning cases.
Representing the local planning authority as defendant in judicial review proceedings brought against them by the owner of land adjoining a development site. This case has become one of the rare but important authorities on the law concerning retrospective planning permission.
Representing the Environment Agency in a civil claim arising out of the exercise by the Environment Agency of its powers of search and seizure against a business. Successful in the Court of Appeal that the challenge to the Environment Agency's use of its powers was unfounded. The case will be a leading authority on the tort of conversion.
Appearing for the claimant in Marcic v. Thames Water, the leading case on the liability of public authorities for the tort of nuisance.
Ground breaking group nuisance action in Dobson v Thames Water, which resulted in a judgment for damages in favour of those adversely affected by a huge sewage treatment works.
Appearing for Conoco Philips in relation to the Humber Oil Refinery explosion.
Appearing in a ground-breaking judicial review challenge against the Health & Safety Executive arising from its regulatory and safety functions under COMAH.
Advising and representing the defence in relation to charges arising out of fatalities at the workplace, for example railways, construction sites etc.
Advising and appearing for various major industrial concerns in respect of operational requirements imposed by regulators.
Advising the energy regulator in relation to its regulatory proceedings against various major suppliers.
Advising those affected by the coming into operation of the ABS regime under the Legal Services Act 2007.
Challenging the adverse ecological impact of the grant of planning permission for housing – clarifying when under European law an appropriate environmental assessment is required.
Challenging in the High Court of the British Virgin Islands (on grounds of predetermination) the grant of planning permission for the development of a major new leisure project.
Challenging in the Hong Kong Supreme Court the designation of part of the New Territory for conservation purposes.
Appearing for the successful complainants in the Alton Towers noise nuisance action.
Education
Born Manchester, 1947
Educated at Eltham College London
Studied Law at Jesus College Cambridge, graduating in 1969
Called to the Bar by the Middle Temple, 1970
Currently resides in London and St Neots, Cambridgeshire
Appointments
Became Queens' Counsel (QC), 1990
Head of Chambers at 6 Pump Court, 1997-Present
Chairman of the Bar, 2006
Former Deputy High Court Judge
Master of the Bench of the Middle Temple
Treasurer of Middle Temple 2015
Former Visiting Professor of Law at the City University
Former member of the Council of English Nature, (now Natural England), the statutory body charged with nature conservation
Chair of Plea Negotiation Working Group established by the Attorney General, ultimately leading to a new protocol for the conduct of complex fraud litigation in 2009.
Honorary member of the Bar of New Zealand
Member of the Bar of the Republic of Ireland
Memberships
Former Chairman of the Environmental Law Foundation
Former Trustee of ClientEarth
Former Advisory Council Member, Advocates for International Development
Chairman, International Court for the Environment (ICE) Coalition
Advisory Board Member of the Department of Climate Law, University of Strathclyde
Visiting Fellow of the Centre for Progressive Policy (a non-party political think-tank)
Latest news
Events
Contact my clerks