John FitzGerald is an established and busy practitioner specialising in criminal defence work and one of the best-known names on the South Eastern Circuit.  He has a highly successful practice encompassing all areas of serious crime and is renowned for representing difficult defendants and appearing in difficult cases and is consistently ranked in the Legal 500. Described in Chambers & Partners 2021 Edition as, "A brilliantly charming jury advocate."
High-profile cases in which he has recently been instructed include defending in the murder of a 16 year old boy in broad daylight on the streets of Croydon, defending a 17 year old accused of attempted murder who inflicted 16 stab wounds on another boy, defending one of 9 Somalian males accused of the grooming and repeated rape of children over a 2 year period, as well as defending those charged with all manner of serious criminal offences including rape, sexual offences against children, s.18, kidnap, armed robbery, false imprisonment.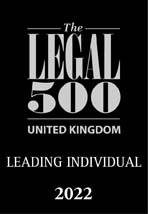 Crime
Violent Offences:
John enjoys instructions from a large number of solicitors whose clients are accused of offences of violence. Such cases often require skilful and destructive cross-examination as well as the ability to deal with difficult defendants.  John was described in the 2016 edition of the Legal 500: "His direct approach helps him fight cases that look hopeless."  Recent examples include:
R v Braham 2022:
Defending a man accused of murdering a 16-year-old boy.  The defendant was driving a moped delivering class A drugs when the pillion passenger asked him to stop.  The passenger stabbed the boy in the chest.  When the boy ran off, the defendant chased him but a passing van picked the boy up and took him to hospital.  The defendant, on licence, lied in his various interviews.  Hundreds of hours of CCTV and cell site analysis were relied upon by the prosecution.
R v Evans 2021:
Defending a 17-year-old accused of attempted murder.  Against a backdrop of animosity with the complainant, also a youth, the defendant inflicted 13 stab wounds with a kitchen knife.  The latter half of the incident was caught on CCTV showing the defendant stabbing the victim whilst he was on the floor.  The defendant claimed he was attacked by the victim who, it transpired through a mass of disclosure, had a fascination with knives and a history of aggressive and violent behaviour.  After the event, the victim used social media to spread his 'truth'.
R v Koldashi 2021:
Multi-handed wounding with intent and robbery.  Four Albanian men from a group of 8 or 9 were accused of a joint knife attack of a drug runner on the streets of Gravesend.  Two vehicles pulled up next to the victim 2 minutes apart and the occupants attacked him.  All claimed the attacks were a coincidence and those in the second car stopped because the male had robbed one of them at knife point a few days before.  Some defendants had travelled from Birmingham and some from London.  The case involved complex legal submissions concerning principal and secondary parties pursuant to the case of R v Jogee.
R v Bishop 2021:
Defending a 16 year old autistic boy who also suffered with ADHD charged with causing grievous bodily harm with intent using a machete.  The defendant was accused of selling cannabis and when a customer refused to pay the inflated price, he produced a machete and struck the victim across the body resulting in his intestines falling out.  The defendant
R v Bley 2020:
Defending the leader of a group of drug dealers accused of knife point robbery in the home.  The defendant had a history using firearms and violence from a young age and some accused met each other in prison.  Cell site and call data evidence, social media evidence, forensic evidence, CCTV and bad character evidence were all relied upon.
R v Johnson 2021:
Defending a man charged with a hammer attack on his neighbour.
Sexual Offences:
John has many years' experience in cases involving serious sexual offending against adults and children.  He has experience dealing with Ground Rules Hearings, pre-recorded cross-examination, intermediaries and complex admissibility arguments.  John adopts a more sensitive style to his advocacy to suit cases of this kind.  In the 2015 Edition of the Legal 500 he was described as "an advocate who justifiable inspires loyalty in his clients".  Recent examples include:
R v Mohammed 2022:
The defendant was one of 9 Somalian males accused of a campaign of grooming and raping children in Canterbury.  He was the oldest and said to be an organiser.  The girls were alleged to have been plied with drink and drugs and forced from house to house where they were raped.  Case involved complex disclosure and abuse of process arguments.
R v Kennett 2022.
Defending a man accused by two independent boys aged under 10 of sexual offences against them.  Each boy had challenges and social services had been involved in their care, such that intermediaries were used to assist them in answering questions, which was pre-recorded.
R v Brown 2022:
Defending a father accused of sexual offending against his daughter over a period of nearly years.
R v Jackson 2021:
The defendant, a convicted child rapist, suffered with Asperger's and Autism.  Having been released on licence he was ostracised from society, struggling with his mental health and then befriended underage girls.  He was accused of further offences of rape, serious sexual offences and associated breaches of SHPO and notification requirements.
R v Silver 2021:
Defending a man accused of 4 rapes of two women.  The defendant had been released on licence and was in a relationship with two women, neither of whom initially knew of the other.  The police were not called until the defendant smashed his way into one of the females' homes, assaulted and raped her before self-harming with a knife.  The case involved complex bad character and s.41 YJCEA 1999 arguments as well as voluminous text messages and difficult cross-examination.
R v Dunn 2021:
Defending a man accused of drugging and luring a child to his home address and then raping her.  There were a number of child witnesses and the defendant's DNA was found in the complainant's underwear.  The defendant's brother was accused of raping her as well on the same night.
R v Sherifi 2019:
Defending a man accused of rape and other sexual offences against a 14 year old girl in Folkestone 20 years ago.  The defendant was Albanian and had fled the country when granted bail in 1999.  The police had lost his interview tapes and only summaries were present.
Drugs Offences:
John has a wealth of experience in drugs conspiracy and importation cases.  John has built up a depth of knowledge regarding Organised Crime Groups, especially those running 'Country Lines' drugs operations.  He has become an expert in assimilating the mass of cell site and mobile phone data that usually accompanies such cases.  His practice is mainly in the south east where the main ports to the continent are based providing a large number of importation cases.  Recent examples include:
R v Ibrahim 2022:
Defending one of 5 alleged to be running a 'County Lines' class A drug supply chain.  Complex cell site and call data created the need to marshal a huge volume of evidence – approximately 30,000 pages.
R v Wilkin 2021:
Defending a man changed with importation of £2 million worth of cocaine.
R v Asamoah 2022:
Defending a man charged with importation of 1 million MDMA tablets, cocaine and LSD.
R v Rhesi 2020:
Defending a City Analyst accused of turning to the supply of cannabis during Covid lockdown.
R v Carty 2019:
Defending a 19-year-old gang leader accused of conspiracy to supply firearms and class A drugs.
R v Ripley & Others 2020:
Prosecuting a 12-handed class A drugs conspiracy arising out of a massive police undercover operation.  Massive amounts of phone evidence, covert audio and video evidence was gathered resulting in offenders from top to bottom of the hierarchy of the OCG.  A further 20 or so defendants were also individually prosecuted.
Offences of Dishonesty:
John has many years experience dealing with cases of dishonesty.  Often, such cases involve high volumes of material and John's ability to identify and cut to the real issues in such cases is a huge asset.  Recent examples include:
R v Crudduck 2022:
Defending a man alleged to be at the centre of a massive mileage alteration conspiracy.  The case concerned hundreds of vehicles, hundreds of victims and millions of miles in a trial due to take 6 weeks.
R v Bhogal 2019:
Leading counsel defending a one of 8 defendants accused of fraudulently selling and installing solar panel energy systems.   The defendant was one of three defendants who were company directors who had lied about the grants available for those installing solar panels, sold overpriced equipment and then installed it to a poor standard.  2 month trial.
R v Rafiq 2019:
Prosecting a 4 handed fraud, in which offenders cheated pensioners out of their life savings.  The offenders stole personal details and identifications and, pretending to be bank employees, were able to convince elderly and vulnerable people that their funds were at risk and to transfer money into 'safe' accounts.
R v Wright 2022:
Prosecuting a man alleged to have defrauded the charity for which he was working.  Case involved vast amounts of PayPal and bank evidence.
Driving Cases:
John has developed excellent experience dealing with Road Traffic Act cases and the specialist evidence from Traffic Collision Experts that features in such cases.  These cases are always tragic and John's ability to deal sensitively with all concerned is a real asset.
R v Regan 2020:
Defending a man who knocked over and killed a pedestrian as he crossed the road.
R v Smith 2021:
Defending 17 year old driver who killed three and seriously injured two passengers whilst trying to avoid police in the country lanes.
R v Henderson 2022:
Prosecuting a man for death by careless driving, who failed to see a man lying in the road and drove straight over him.
Recommendations
"Well known for defending across a purview of serious criminal matters."
― Legal 500 [2019]
"His direct approach helps him fight cases that look hopeless"
― Legal 500 [2016]
"An advocate who justifiably inspires loyalty in clients."
― Legal 500 [2015]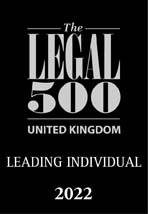 Notable Cases
R v King & Others 2019:
Defending the organiser of a conspiracy to import illegal immigrants using a RHIB to cross the English Channel and back under cover of darkness. The evidence was a complex web of police surveillance, maritime expert evidence and mobile phone contact and cell site analysis.
R v Evans (2018)
Defending one of four defendants caught by under cover filming by the BBC's Panorama programme of allegedly mistreating trainees in their charge, at a young Offender's Institute at which they worked as Security Officers. The defendants were accused of misconduct in public office in a trial that lasted 2 months.
R v Thompson & Others (2019)
Prosecuting 4 defendants aged 16 and under for a hatchet attack on a boy in the street in South London.
Appointments
Grade 4 CPS Panel Advocate (London & South East) and RASSO approved counsel.
Memberships
Criminal Bar Association
Kent Bar Mess
South Eastern Circuit
Education
BA Hons. (London)
C.P.E (University of Westminster)
B.V.C., (College of Law, London)
Ampleforth College
Latest news
Contact my clerks